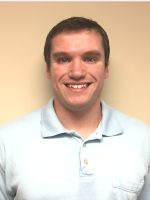 Youth Pastor
229-725-4991
Ryan is from Spartanburg, SC and believes he was blessed to have grown up in a Christian environment.  From the time he was a small child, he felt the importance of following Jesus' will for his life, and in his junior year of high school, began to feel the call to ministry.  He was drawn to Youth Ministry as he believes the teenage years are a crucial time for spiritual development.
When he graduated high school in 2008, he began his studies towards his BA in Youth Ministry at North Greenville University in Tigerville, SC.  Upon graduation in 2012, Ryan moved to Wake Forest, NC to begin his Masters of Divinity in Christian Ministry at Southeastern Seminary.  During that time, he worked as a lay leader in one of the local churches.
Ryan began his work as Youth Pastor here at Arlington Baptist Church in June 2017 and is looking forward to serving the youth and their families.  During his free time, he likes working out in a gym or participating in competitive sports.  He also likes listening to music and watching Netflix.